World Cup ReCap: Hate the Vuvuzelas, Love The Hats
I have to admit I've got World Cup fever. I'm watching on my big flat screen TV. I love every game. I'm hooked.
I love South Africa. I hate the vuvuzelas with that annoying undercurrent of buzzing bees they lend to every match, but I love the enthusiasm of the fans and the amazing outfits they put together. I particularly love, guess what— yes, the hats. Here's a gallery of some of my favorites.
source:www.shine2010.co.za
Not sure what to think of this headgear. source
Fabulous South African bling source same as above photo

Italian hardhat chic source:LaertesCTB Flickr
How about those glasses? Source: Coca-Cola South Africa Flickr
Viking Couture from Sweden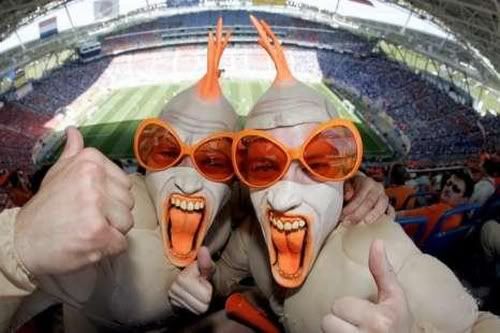 My personal fave fan hat from the Netherlands: Source
And just so you know that I don't really hate Vuvuzelas, here's a clip from Youtube that shows them off to better advantage and will give you some idea of what the sounds are all about. There is more to the vuvuzela than meets the non-African ear?